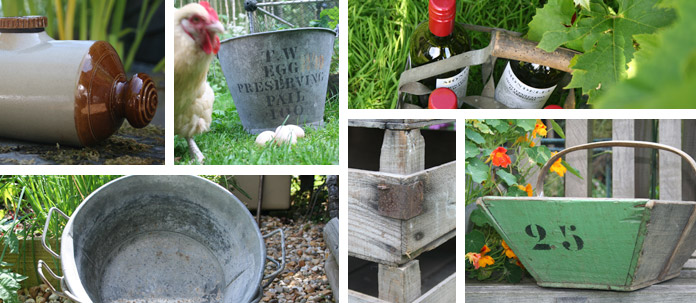 Welcome to Lavender Hare
At Lavender Hare we take great pride in selecting original products which will enhance and compliment any home or garden. Our collection includes vintage tools, galvanised buckets, watering cans, jugs, stone ware, bottle carriers and milk churns, together with kitchenalia and stunning enamelware from France.
We hope you will enjoy browsing our online store packed full of vintage, careworn products as much as we have enjoyed rescuing and dusting them down in the hope of finding them a new home.
As we are constantly changing our stock, if you cannot find what you are looking for today, please keep visiting our site. We may have just what you are looking for in the near future.
Lavender Hare products are genuine vintage items and come with their own unique careworn charm. If you are looking for something that has that 'brand new look', then these products may not be for you. We will however do our up-most to describe each item as accurately as possible, but please study the photographs of the item that you are interested in before placing your order. We are happy to receive questions about a product by email if you have any concerns.
Lavender Hare exhibits at a select few country fairs across Hampshire. They are delightful days out, and we meet many people who reminisce over our vintage finds and are delighted that products that that they or their parents and grandparents once used in their day to day life are being rescued and put to use again.
Should you be interest in knowing where Lavender Hare will be exhibiting next, a list of venues for the coming year can be found on our news page. It would be lovely to see you.
The Beginning
Lavender Hare was created from our love of all things connected with vintage country living, and our hunt for items to complement our cottage in the heart of the Hampshire countryside. After holidaying in France and collecting far too many lovely home and garden artifacts for our own needs, 'Lavender Hare' was born. Creating Lavender Hare has allowed us to continue to enjoy finding pieces, and be able to pass them on to like-minded people so that they may too enjoy them for many years to come.